The Turbo RT Mulliner was a standard Bentley Turbo RT which was aggressively styled by Mulliner. Production was to be limited to 50 models but in the end 56 were produced. All but 1 are based on the long wheel base chassis, 17 are right hand drive and 39 are left hand drive. 55 are 1998 model year with 1 being a 1999 model.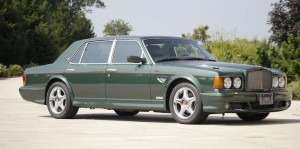 The standard specification was comprehensive and included:
Bentley Eight mesh grill and body coloured headlight surrounds
420 BHP Engine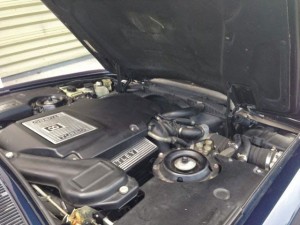 Bonnet Vents
Wing Vents
Embroidered Bentley logo to headrests
Front bumper with integral fog lights
Restyled rear bumper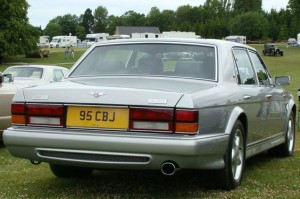 Red starter button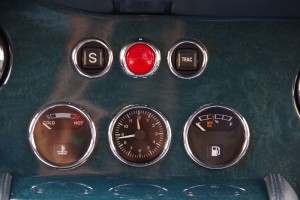 Optional extras included:
A rear mounted speedometer
Wood or Machined Aluminium fascias
Chrome Sports Wheels
Chrome Mirrors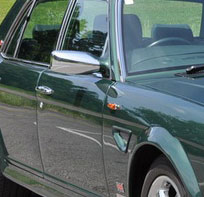 Drilled brake and accelerator pedals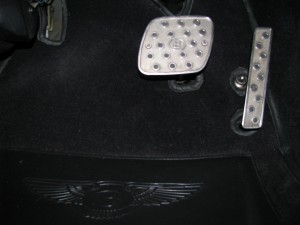 Kick plates bearing the owner's name
You could also specify a race number spot on the front doors but I have not seen a car with this option yet.
Here are some sketches from the factory: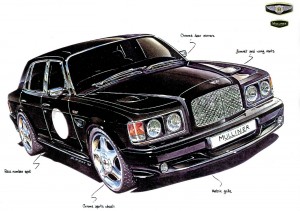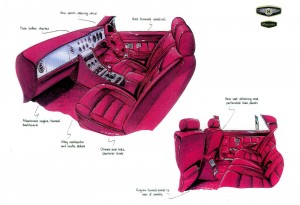 I have tracked down quite a few of these desirable motor cars. If you can help to complete this list please get in touch I would love to hear from you.
This is the list of chassis numbers for the 56 vehicles produced:
Model year 1998
SCBZP27C9WCX66432
SCBZP27C0WCX66433
SCBZP26C3WCX66556
SCBZP26C7WCH66563
SCBZP26E6WCX66584
SCBZP25C6WCX66701
SCBZP26CXWCX66702
SCBZP26C1WCX66703
SCBZP25C1WCX66704
SCBZP25C3WCX66705
SCBZP26C3WCH66706
SCBZP26C5WCH66707
SCBZP26C0WCX66708
SCBZP25C0WCX66709
SCBZP27C0WCX66710
SCBZP26C0WCX66711
SCBZP26C9WCH66712
SCBZP26C0WCH66713
SCBZP25C4WCX66714
SCBZP25C6WCX66715
SCBZP26C6WCH66716
SCBZR26C5WCH66717 – the only short wheelbase model
SCBZP26C3WCX66718
SCBZP26C5WCX66719
SCBZP25CXWCX66720
SCBZP25C1WCX66721
SCBZP26C1WCH66722
SCBZP26C3WCH66723
SCBZP26C5WCH66724
SCBZP25C9WCX66725
SCBZP25C0WCX66726
SCBZP25C2WCX66727
SCBZP27C8WCX66728
SCBZP27CXWCX66729
SCBZP27C6WCX66730
SCBZP26C2WCH66731
SCBZP25C6WCX66732
SCBZP26CXWCX66733
SCBZP26C8WCH66734
SCBZP26CXWCH66735
SCBZP27C7WCX66736
SCBZP25C5WCX66737
SCBZP25C7WCX66738
SCBZP25C9WCX66739
SCBZP26C7WCX66740
SCBZP25C7WCX66741
SCBZP26C7WCH66742
SCBZP25C0WCX66743
SCBZP26C4WCX66744
SCBZP26C2WCH66745
SCBZP26C4WCH66746
SCBZP26CXWCX66747
SCBZP27C3WCX66748
SCBZP25C1WCX66749
SCBZP26C6WCH66750
Model year 1999