Bentley Motorcars commissioned ten cars to celebrate the start of the twenty-first century. These were named the Bentley Continental R Millennium and were based on the Continental R Mulliner. All 10 cars were delivered to the North American market.
The specification included:
The Mulliner wide body with 4-inch fender flares (this model also has wing vents)
A unique interior with a green starter button
Tread plates inscribed with the number of each vehicle eg "MOTOR CAR NUMBER 1 OF 10"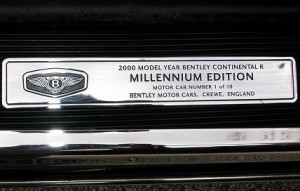 Chrome wheels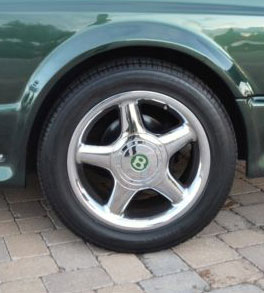 Some cars seem to to have been specified with wing vents, others do not.
If you have any information about any of these vehicles please get in touch.
Bentley Continental R Millennium – Car 1 of 10
Bentley Continental R Millennium – Car 2 of 10
Bentley Continental R Millennium – Car 3 of 10
Bentley Continental R Millennium – Car 4 of 10
Bentley Continental R Millennium – Car 5 of 10
Bentley Continental R Millennium – Car 6 of 10
Bentley Continental R Millennium – Car 7 of 10
Bentley Continental R Millennium – Car 8 of 10
Bentley Continental R Millennium – Car 9 of 10
Bentley Continental R Millennium – Car 10 of 10
SCBZB22E3YCX63309 – Car 1 of 10
SCBZB22EXYCX63310 – Car 2 of 10
SCBZB22E1YCX63311 – Car 3 of 10
SCBZB22E3YCX63312 – Car 4 of 10
SCBZB22E5YCX63313 – Car 5 of 10
SCBZB22E7YCX63314 – Car 6 of 10
SCBZB22E9YCX63315 – Car 7 of 10
SCBZB22E4YCX63318 – Car 8 of 10
SCBZB22E6YCX63319 – Car 9 of 10
SCBZB22E2YCX63320 – Car 10 of 10